Vertical Boat Lifts
For boats from 1,250 to 32,000 lbs.
Vertical boat lifts can be used in either shallow and deepwater applications, rough water, and in fluctuating water levels. The greater height provided by vertical lifts also means they are better suited to lakes with water levels that fluctuate a great deal because they don't have to be moved as often. We offer two types of Vertical boat lifts:
---
RGC Aluminum Vertical Boat Lifts
The Dock Doctors are a distributor for RGC aluminum boat lifts offering boat lifts ranging from 1,200 to 10,000 lb. capacity.
The Dock Doctors Ultimate Vertical Boat Lifts
Ideal for boats from 6,000 to 32,000 lbs, our ultimate vertical boat lift is custom manufactured with industrial quality hot-dipped galvanized steel.

Download the Boat Lifts section of our catalog (PDF)
---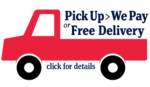 Local Delivery & Installation of boat lifts available throughout the Northeast, click here for details.
NOTE: Free delivery available on in-stock products only. Free delivery does not apply to Ultimate Boat Lifts.