Job Openings
Come work with us! See our current job openings.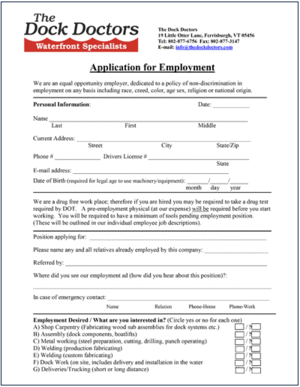 Are you currently working in the trades and looking to apply your skills to a more diverse and unique trades industry? Maybe you are in the early stages of your career and are looking to expand on your skills and experience. Does working on a workboat or in and around the water appeal to you?
We are growing and The Dock Doctors, specialists in waterfront construction and manufacturing, are seeking to hire all levels of workers to add to our waterfront service department. See below for more information on what experience is necessary for each position, along with other skills that you may have that would enhance your wage level.
If you are looking for a job with a growing company that has diversity and advancement opportunities please contact us by email: jobs@thedockdoctors.com
You may also stop by The Dock Doctors on Route 7 in Ferrisburg, Vermont for an application, click here to download an application or call 802-870-7502 to have one emailed or mailed to you.
We offer a very competitive wage and benefit package.
401(k) with matching
Dental insurance
Health insurance
Paid time off
Vision insurance
Added Opportunities/Incentives for All Service Positions:
The following are a list of skills/certifications that aren't required but would increase your compensation range if you have these skills. We also offer an employee covenant/expense recovery program while employed with us for a Commercial Drivers License and/or Dive certification (conditions apply).
CDL Class A license
Workboat operation
Dive certification
Crane and Rigging certification
---
Laborer/Worker - Entry Level
Full, Part Time or Seasonal positions available
Job Description & Highlights:
Work with a 2-5 person team installing waterfront products and learning the various aspects of our services
Ability for advancement
Daily job variety working in and around the water
Competitive pay
Benefits (pending full or part-time)
Requirements/Qualifications:
Good mechanical aptitude to learn product assembly and installation
Basic knowledge of hand tools (tape measure, wrenches, etc.)
Motivation and reliability
Lifting 75 – 100 lbs and working on diverse waterfront sites that are often are physically demanding
Adhere to Company Safety procedures and policies
Valid drivers license (a plus but not required)
Pay: Starting at $20/hr. and up based on experience and skill set.
---
Crew Leader
Full, Part Time or Seasonal positions available

Job Description & Highlights:
Lead a crew / team of typically 2-3 people installing waterfront products and working on more extensive on-site projects
Advancement opportunities will be created through your exposure and experience working on larger scaled projects.
Full time, part time or seasonal positions available
Daily job variety working in and around the water
Competitive pay
Benefits (pending full or part time)
Requirements:
Good mechanical aptitude to learn product assembly and installation
Confident tooling knowledge and use (hand, power, and gas-powered tooling, etc.)
Organized, self-motivated and reliable
Previous leadership experience of 2+ people
Lifting 75 – 100 lbs and working on diverse waterfront sites that are often are physically demanding
Attention to detail, including documentation (both via paper & electronic device)
On-Site communication with Customer along with daily communication with supervisor
Ability to perform physical tasks in and around the water
Adhere to Company Safety procedures and policies
Valid driver's license acceptable to our Insurance Company requirements
---
Project Foreman
Full, Part Time or Seasonal positions available

Job Description & Highlights:
Earn up to $100k annually
Lead a crew / team of typically 2-5 people installing waterfront products and working on more extensive on-site projects
Advancement opportunities will be created through your exposure and experience working on larger scaled projects.
Full time, part time or seasonal positions available
Daily job variety working in and around the water
Competitive pay
Benefits (pending full or part time)
Requirements:
Good mechanical aptitude & trades experience
Confident tooling knowledge and use (hand, power, and gas-powered tooling, etc.)
Organized, self-motivated and reliable
Previous project management and crew leadership of 3+ people
Lifting 75 – 100 lbs and working on diverse waterfront sites that are often are physically demanding
Attention to detail, including documentation (both via paper & electronic device)
On-Site communication with Customer along with daily communication with supervisor
The ability to read and understand mechanical drawings / blueprints
Ability to perform physical tasks in and around the water
Adhere to Company Safety procedures and policies
Valid driver's license acceptable to our Insurance Company requirements