Installation Services
Take the worry and hassle away and have The Dock Doctors install your new dock system.
Local Delivery & Installation available throughout the Northeast
Take the worry and hassle away with The Dock Doctors installation, and have the assurance that your system will be taken care of with the utmost quality and safety in mind.
Stock installations typically have a 2–4 week lead time depending on weather, order backlog, and if the installation requires the use of our workboat. We have experienced year-round staff and are equipped to cover the entire Northeast with our products and services.
---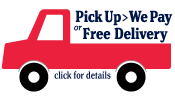 Free Local Curbside Delivery
We also offer Free Curbside Delivery for many of our Stock Products. Installation not included.