Our Locations
The Dock Doctors serves the entire Northeast and ships nationwide.
** The Dock Doctors is open and operating **
We are open for business, however in an effort to protect our staff and their families due to the COVID-19 pandemic, we are restricting admittance into our manufacturing facility and administrative offices to employees only. For customers wanting to see our products, our outdoor showroom is open. Please ring the doorbell by our showroom entrance, and a salesperson will be down momentarily to meet you outside. At this time, our indoor showroom is currently closed. We appreciate your understanding, cooperation, and as always, your business.
---
For our customer's convenience, we have two locations, our main showroom and manufacturing facility in VT and our seasonal showroom in Lake Placid/Saranac Lake NY. Our outdoor displays in VT and NY are open year-round for you to stop by and enjoy anytime.
Vermont Manufacturing Facility & Year-Round Showroom map
The Dock Doctors
19 Little Otter Lane, Route 7
Ferrisburgh, VT 05456
Toll-Free: 800-870-6756 (within USA only)
Phone: 802-877-6756
Fax: 802-877-3147
Email: info@thedockdoctors.com
Indoor Showroom - Open year-round
Monday-Friday 9:00 - 4:30 (year-round)
Saturdays 9:00 - 1:00 (April 4th through July 25th, 2020)
Other times available by appointment
*Please Note: All locations closed Memorial Day weekend and July 4th.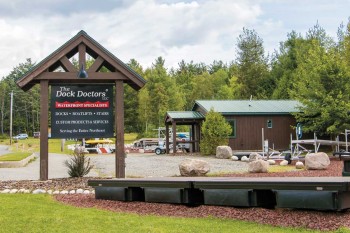 Lake Placid / Saranac Lake Seasonal Showroom map
876 State Route 86, Ray Brook, NY
(located midway between Saranac Lake and Lake Placid)
Toll-Free: 800-870-6756
Indoor Showroom - Seasonal Hours Only
Open June 2nd through August 29th, 2020
Tuesday–Friday 10:00–4:30
Saturday 9:00–1:00
Other times available by appointment
*Please Note: All locations closed Memorial Day weekend and July 4th.
Mail is not received at our seasonal showroom.
All of our products are manufactured in our 25,000 sq. ft. state-of-the-art facility in Vermont USA, and can be picked up, delivered locally, or shipped to anywhere in the continental USA. Our staff and crew have designed, manufactured and installed 1000's of dock systems on lakes, rivers, bays, and sounds. Whether your project is complex or straight-forward, our experienced staff will create a product designed to your individual needs and specific site conditions. We offer in-house and on-site consulting, conceptual layouts and designs.
---
Tour our Vermont Year-Round Showroom
The Dock Doctors Manufacturing Facility