Residential Dock & Launch System
Easily launch your kayak or canoe from your dock with our floating launch system.
Our floating kayak launch dock makes launching your kayak, canoe or other small craft smooth, safe and fun.
Our medium-duty aluminum floating launch system features a universal track-style aluminum frame & foam-filled black polyethylene floats. This system can be used as an independent launch dock, or as part of a complete dock system to accommodate your other waterfront activities, including swimming, lounging, and motor-boating.
For more exposed sites, we can incorporate our floating kayak ramp into our custom steel truss dock systems or for commercial sites or ADA accessible features see our heavy-duty commercial kayak launch.
Launch ramp added to a custom floating dock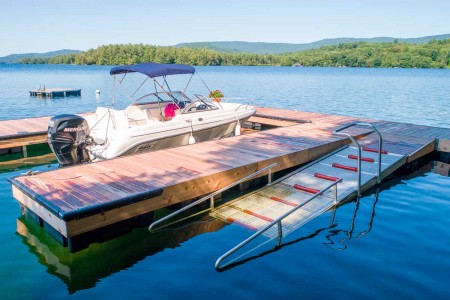 Medium Duty Dock & Launch System
5" tall aluminum frame
19' X 11' 9" overall size
Launch ramp (4' x 12') with built-in rollers and Sure-Step® non-skid ramp decking
Boarding handle & grab & launch rails
Heavy-duty commercial system also available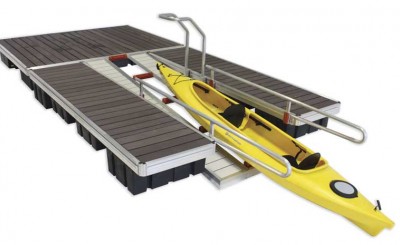 ---
For a free quote on your project, simply complete our online site survey (or download a printable one) and one of our waterfront specialists will contact you.