About Us
Learn about our 35+ years' of experience in residential, commercial and municipal waterfront products.
---
The Dock Doctors designs, manufactures and installs residential, commercial and municipal waterfront products - including docks, commercial marinas, boat lifts, stairs, hillside trolleys, boathouses, gangways, and other waterfront access products.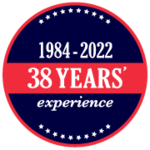 With over 35 years of experience, we have the knowledge of the structural integrity required in the Northeast. We have designed, manufactured and installed 1000's of dock systems in lakes, rivers, bays, and sounds within the Eastern United States, including Vermont, New Hampshire, Maine, the Adirondacks, Rhode Island, Connecticut, New Jersey, New York, Long Island Sound, the Hudson Corridor and beyond.
Our extensive range of knowledge and expertise allows us to offer a very diverse - and often innovative - product line to meet the challenges of site conditions and unique situations. Please contact us or complete our site survey for a free estimate on your waterfront project today.
>> Interested in working for us? Click here for our current job openings.
Design
Whether it's a complex commercial or residential application, The Dock Doctors will evaluate your site geography so we can recommend the most cost-effective, efficient solution, while still maintaining the highest level of quality and durability. We offer in-house and on-site consulting, conceptual layouts, and designs based on your individual site and use requirements.
Permitting
We are experienced with state and local permitting, as well as working with insurance companies in the unfortunate event of insurance replacement due to weather-related losses.
We understand the expectations of permitting agencies and have the ability to design and work within their regulatory perimeters.
We have long-standing relationships with Vermont State and New York State Permitting Agencies, and are listed as a preferred vendor for the New York State DEC.
We can serve as the middleman or intermediary with permitting agencies and insurance companies.
Manufacturing
All our products are manufactured in our 25,000 sq. ft. state-of-the-art facility in Ferrisburgh, Vermont. We strive to source all of our raw materials from within North America. We offer Industrial-grade hot-dipped galvanized steel, powder-coated steel and High-grade marine aluminum.
Installation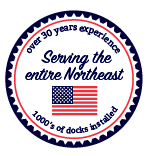 We have the equipment, knowledge and experienced staff to ensure a smooth and quality installation.
Work barges with hydraulic cranes
A fleet of service vehicles to cover the northeast region
Scuba-certified staff for underwater work
Locations
For our customers' convenience, we have two locations, one in VT and one in Lake Placid/Saranac Lake NY. Our outdoor displays in VT and NY are open year-round for you to stop by and enjoy anytime.