Reviews on Dock Doctors Kayak Trailers
After hosing everything off, I just back the loaded trailer into the garage, keeping my kayaks and gear secure overnight, ready for the morning fishing trip. [ read the entire review here ]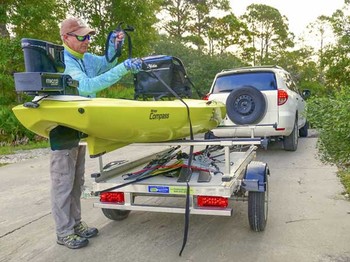 Although I wanted the basic trailer when I first contacted the company, I'm now glad I upgraded to one of the utility bed models. Rather than stuffing my small SUV with pedal drives, gear crates, seats, paddles and fishing tackle, I now bungee stuff beneath my kayaks. It speeds up loading, and I can rinse the salt off my kayaks and fishing gear simultaneously. Transporting salty accessories on the trailer also protects the interior of my SUV from corrosion. After hosing everything off, I just back the loaded trailer into the garage, keeping my kayaks and gear secure overnight, ready for the morning fishing trip. The bed design prevents pooling water, so gear dries quickly and very little water drips on my garage floor. [ read the entire review here ]
---
I pulled the trailer with my Prius through 250 miles of the Adirondack Mountains

"I had absolutely no problems pulling the trailer with my Prius through 250 miles of the Adirondack mountains, I didn't even know it was there! - M.R. "
---
It is no doubt the best-made trailer that I have come across

I love the new trailer. It traveled very well and I now have it loaded and ready to go to the New Jersey shore for a weekend of kayaking. The quality is tremendous. It is no doubt the best-made trailer that I have come across and the design seems to work very well for my needs. For the first time I can have a loaded trailer connected to the car and able to lift the back hatch without the need to unload the kayaks. It will also serve me well in that I can use it to haul many other items in the bed. I love it!
---
Exactly the Trailer I was looking for.

My family LOVES this trailer. We do a lot of camping and we needed a trailer that can hold all our camping equipment and our two canoes. The Dock Doctor's Paddlesport/Utility trailer was the only trailer that met all our needs. Was also really impressed with their customer service. Typically they answered every call and when I did have to leave a message they usually responded in a couple of hours. The optional accessories were added in a timely manner, and the trailer was delivered on time as promised.
---
Paddlesport Trailer from the Dock Doctors

We purchased a Paddlesport Trailer from the Dock Doctors, and we're very happy. Not only is the trailer light, maneuverable, and versatile, the Dock Doctors' customer service is great! We had some trouble getting the trailer lights to work with our vehicle. We returned to the shop, and one of their staff stayed with us--after hours--until he resolved the problem. They are friendly, helpful and dedicated!
---
Excellent quality construction. Attention to detail is evident.

Purchased the 4x5 Paddlesport/Utility trailer in late August after searching hi and low for a suitable transport for our kayaks. We are getting too old to lift 55Lbs + kayaks on to a car roof but want to continue using them in NH. Reviewed Malone and Loadrite and decided on the Dock Doctors after considering price, quality and functionality. Used once and loved the trailer.
Pros:
Excellent quality construction. Attention to detail is evident.
Ease of use.
Excellent towing characteristics.
Good sales interaction. Polite staff.
Potential to be used as a utility trailer as well kayak carrier.
Torsion bar suspension is excellent for load.
Variable-length tongue allows a variety of loads.
Cons:
I wish the Dock Doctor had a dealership in NH. I had to pick it up across the entire State. At least I didn't have to assemble a million parts.
The variable-length tongue was very difficult to extend. Pre lubing it at the factory would be nice.
The holes drilled in the tongue for adjustments should be 1/2 inch, not 7/16ths. That would allow use of a standard 1/2 inch locking hitch pin (class I/II). Nothing worse than arriving back from a paddle to find that someone removed the pin.
Paperwork including warranties and basic info like tire size should be provided at sale.
Estimated maximum kayak length should be posted on web site. This would aid the vetting process. Malone posts this data.
Installing a lift handle on all models would be nice. I may do it soon.
Overall, an excellent product. Would, and have, recommended this trailer to others.
Dear Armand, thank you for your comments... we truly appreciate your feedback! These are all great comments to help us improve our product. We are sorry to hear your hitch pin was stolen off your trailer, please contact us and we can provide a replacement. The pins we use are stainless steel, rather than a standard 1/2" pin which would be zinc and prone to rusting. You also can find basic info on the trailer VIN sticker, such as tire size, GVWR, load capacity, etc... This is located on the front edge of the trailer by the tongue. Enjoy your trailer and please contact us if there is anything you need.