Lightweight Aluminum Frame Swim Float
Ideal for use in small lakes or bays, one-piece aluminum frame
Ideal for calm bays or small bodies of water. One piece lightweight aluminum frame swim raft with polyethylene floats. Removable decking in cedar or WearDeck composite. Optional ladder and anchoring sold separately.
---

For full details and pricing, please download the swim raft section of our catalog.
---
Stock Size
Weight**
Net Buoyancy
Decking
Price*
8' x 8'
162 lbs.
865 lbs.
Cedar
$2,135.00
8' x 8'
162 lbs.
787 lbs.
WearDeck™
$2,505.00
**Weight is with decking removed. Decking manufactured in removable panels.

---
Free local delivery* or we ship many of our products nationwide, click here for more details or contact us for a price for shipping to your location. Restrictions apply.
---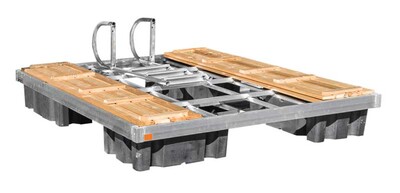 8' x 8' aluminum frame swim float with cedar decking. We can create custom, larger aluminum swim floats using our aluminum floating dock sections.