Portable Aluminum Stairs
Pre-manufactured (readily available), bolt-together stair systems with adjustable rise and run, ship UPS or freight.
Our lightweight aluminum portable stairs are rigid and adjustable offering a design with features to accommodate a variety of waterfront applications. Our design offers a comfortable rise and run which is adjustable to accommodate a custom fit that requires a variable degree of approach. These pre-manufactured, bolt-together stair systems are in-stock and readily available in lengths up to 18'. Offering a lifetime of virtually maintenance-free features, these quality aluminum stairs are an economical solution for waterfront access and ideal for replacing your old wooden steps.
---
Download a PDF on our Aluminum Stairs

---
Aluminum Stair Features
Readily available in lengths up to 18'
Adjustable rise and run (27 to 44 degrees) to accommodate your site
4-step and 6-step stairs ship UPS > order online
8-16 step stairs ship freight > contact us for a quote
Lightweight & easy to carry for a two-person installation
Non-skid, 28" wide stair treads
Marine-grade aluminum extrusions with stainless steel fasteners
Rounded aluminum handrails on both sides
Optional adjustable footpads for the base of the stairs
Includes mounting bracket – designed for easy seasonal installation & removal of stairs
Custom aluminum stairs available for specific applications & lengths
Order Online

Our 4 and 6-step aluminum stairs can be ORDERED ONLINE and ship UPS (continental USA only). Please add to cart to calculate a shipping cost to your zip code.
All other stairs (8-16 steps) ship common carrier truck or are available for pickup and local delivery. Please contact us at 1-800-870-6756 for a shipping quote for 8-16 steps stairs.

---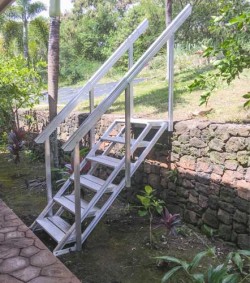 "I thought you'd like to see what I've done with your staircase. It's perfect for climbing to my back slope for access to pool solar tubes and fruit trees. Yard maintenance too. My compliments to your company for a quality product along with easy to follow assembly instructions".
— JD, Hawaii, USA