YAKport floating Kayak Launch
Connects to floating or fixed docks so you can easily launch your kayak or canoe from your dock.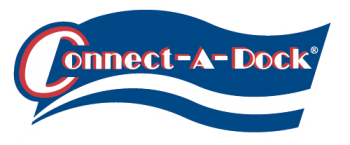 The YAKport launch makes getting in and out of the water easy for beginners or experienced users. The YAKport can be used for kayaks, canoes or stand up paddleboards (SUP) up to 34" wide.
Connect to floating or fixed docks with the selection of accessories and anchoring options. YAKport can be installed to virtually any floating or fixed dock. Floating dock installations will use a set of metal hinges while fixed dock installations will use 2" poles and pole connectors.
YAKport is made from highly durable UV protected polyethylene. Optional overhead and entry handles are available.

Download more information on the YakPort
---
YAKport: $620 MSRP

(Note: connection hinges and/or anchoring additional)
Contact us for a free estimate on adding the YAKport to your waterfront.

Optional items:
Overhead assist bars: $154
Grab bars (long): $194 each
Grab bars (short): $108 each
YakPort Dock Connection Kits:
(additional anchoring may be required)
Connect-A-Dock 1000 Series: $198
Connect-A-Dock 2000 Series: $166
Fixed Docks: $166
Floating Docks (low profile): $120
Floating Docks (high profile): $189
Outside Dimensions: 48" wide x 60" long x 22" high
Inside Dimensions: 34" wide x 17" high
Accommodates crafts up to 34" wide
Weight: 99 lbs.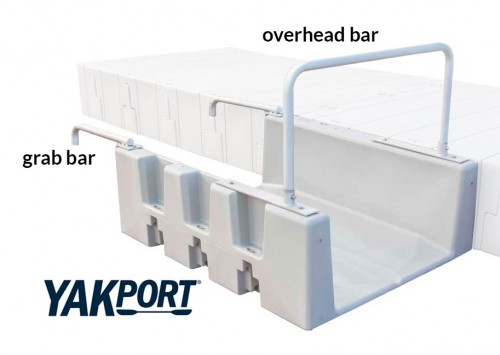 shown attached to Series 2000 Connect-A-Dock

Download more information on the YakPort