Connect-A-Dock Rowing Docks
Polyethylene plastic rowing docks by Connect-A-Dock.
Connect-A-Dock Floating Dock Systems are used at many of the U.S. regattas and boathouses. The 1000 Series-Low Profile system can fit almost any need, and the versatile modular sections can create many different shapes and sizes with little effort. Whether it is a rowing dock, a leisure dock or a commercial application, Connect-A-Dock floating docks provide an environmentally safe solution.
The float sections are rotationally molded of durable, long-lasting polyethylene plastic. This plastic endures the elements and the 8-year warranty ensures its performance year after year. Rowers and rowing coaches will appreciate the dock's stability, creating a safe platform for entering and exiting their shells.
This extra confidence allows the rowers to concentrate on the rowing event, rather than worry about their footing.
1000 Series Float Section
90" x 120" x 10" (228.6 cm x 304.8 cm x 25.4 cm)
Maximum flotation: 2800 lbs (1270 kg) per module
Freeboard: 8" (20.32 cm) above the water
Sections start at $2,106
Download a PDF for more information
Contact us for a free estimate with competitive package pricing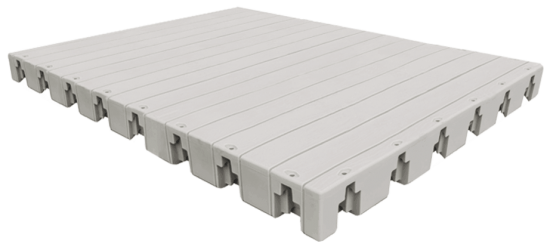 FEATURES
8-inch freeboard
Does not contain CCA
Maintenance-free and will not rot, peel or splinter
Slip-resistant wood grain texture ensures safety
Features rigid underside support for stability
Easy to install — no special tools required
Resists UV rays, gas, oil and saltwater
Made of space-aged plastic that won't harm shells or rowing sculls
The Dock Doctors are the exclusive distributors of Connect-a-Dock products for New England and New York. Please contact us for pricing or a free estimate.
For a free quote on your project, simply complete our online site survey (or download a printable one) and one of our waterfront specialists will contact you.